Dexterous Telemanipulation
With a Multi-Touch Interface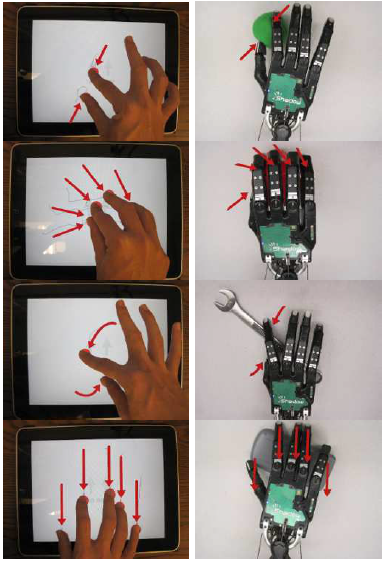 People
Yue Peng (Ken) Toh | Shan Huang | Joy Lin | Maria Bajzek | Garth Zeglin |
Nancy S. Pollard
Abstract
Robust manipulation with a dexterous robot hand is a grand challenge of robotics. Impressive levels of dexterity can be achieved through teleoperation. However, teleoperation devices such as a glove or force reflecting master-slave system can be expensive and can tie the robot down to a restricted workspace. We observe that inexpensive and widely available multi-touch interfaces can achieve excellent performance for a large range of telemanipulation tasks, making dexterous robot telemanipulation broadly accessible. Our key insight is that dexterous grasping and manipulation interactions frequently focus on precise control of the fingertips in a plane. Following this observation, our novel multi-touch interface focuses on reliable replication of planar fingertip trajectories, making previously difficult actions such as grasping, dragging, reorienting, rolling, and smoothing as intuitive as miming the action on a multi-touch surface. We demonstrate and evaluate these and other interactions using an iPad interface to a Shadow Hand mounted on a Motoman SDA10 robot.
Citation
Yue Peng Toh, Shan Huang, Joy Lin, Maria Bajzek, Garth Zeglin, and Nancy S. Pollard, Dexterous Manipulation With a Multi-Touch Interface, 2012 12th IEEE-RAS International Conference on Humanoid Robots
Links
Copyright notice
The documents contained in these directories are included by the contributing authors as a means to ensure timely dissemination of scholarly and technical work on a non-commercial basis. Copyright and all rights therein are maintained by the authors or by other copyright holders, notwithstanding that they have offered their works here electronically. It is understood that all persons copying this information will adhere to the terms and constraints invoked by each author's copyright. These works may not be reposted without the explicit permission of the copyright holder.