Results of colorizing Prokudin-Gorskii's images
small image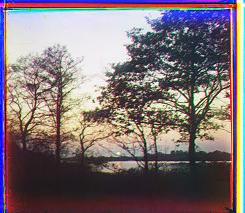 00169r.jpg
medium images
| | |
| --- | --- |
| 00149v.jpg | 00153v.jpg |
| 00163v.jpg | 00167v.jpg |
| 00169v.jpg | 00180v.jpg |
| 00194v.jpg | 00398v.jpg |
| 00163v.jpg | 00458v.jpg |
| 00600v.jpg | 01167v.jpg |
large images
| | |
| --- | --- |
| 00458u.tif | 01657u.tif |
Speed:
This program runs pretty slowly, since there are nested for/while loops. When running on machines in the graphic lab (in Matlab text mode), a small image takes a few seconds. A large image takes about a minute and a half.



Extra Stuffs:
I did not implement any of the bells and wistles.
When aligning two images, instead of doing SSD on the whole image, and the whole shifted image, I cut off 1/10 of the edges of the images, because I think the edges are distracting for SSD and don't provide much information.